SOCIAL DEVELOPMENT, DISASTER RELIEF AND REHABILITATION
DReaM Team
Ateneo Disaster Response and Management (DReaM) Team
The Ateneo Disaster Response and Management (DReaM) Team) is the main engine for the University's disaster relief and rehabilitation work. Since Typhoon Ondoy 2009, the DReaM Team has responded to disasters and emergencies by coordinating financial aid and supplementing local efforts through sourcing and delivery of relief goods to affected communities.
Composed of offices and volunteers from various Ateneo units, the DReaM Team organizes the University's emergency response efforts. The Dream Team counts Tanging Yaman Foundation (TYF) and Simbahang Lingkod ng Bayan (SLB) among its partners in ensuring that assistance is provided to those who need it the most.
TYF is a conduit foundation, bridging the generosity of Filipinos here and abroad to the vital needs of people and communities in the Philippines through programs in education, housing, livelihood, and disaster relief and rehabilitation.
SLB is the socio-political apostolate of the Society of Jesus in the Philippines, and is a non-partisan, Church-based, Jesuit-led organization committed to the service of the Church and the Filipino people.
COVID-19 Efforts
For the past eight months, the DReaM Team, TYF and SLB have been working to scale up COVID-19 response efforts through the provision of personal protective equipment (PPE) and other medical essentials and food packs for hospital personnel. Families from vulnerable communities have also been the beneficiaries of food packs and hygiene kits.
To date, we have helped over a hundred hospitals and over 25,000 families in partner communities across Luzon. You can read or download our COVID-19 6-Month Report here.
Our COVID- 19 efforts are on-going and as cases continue to rise, your monetary donations will help provide the needs of our partner hospital and communities.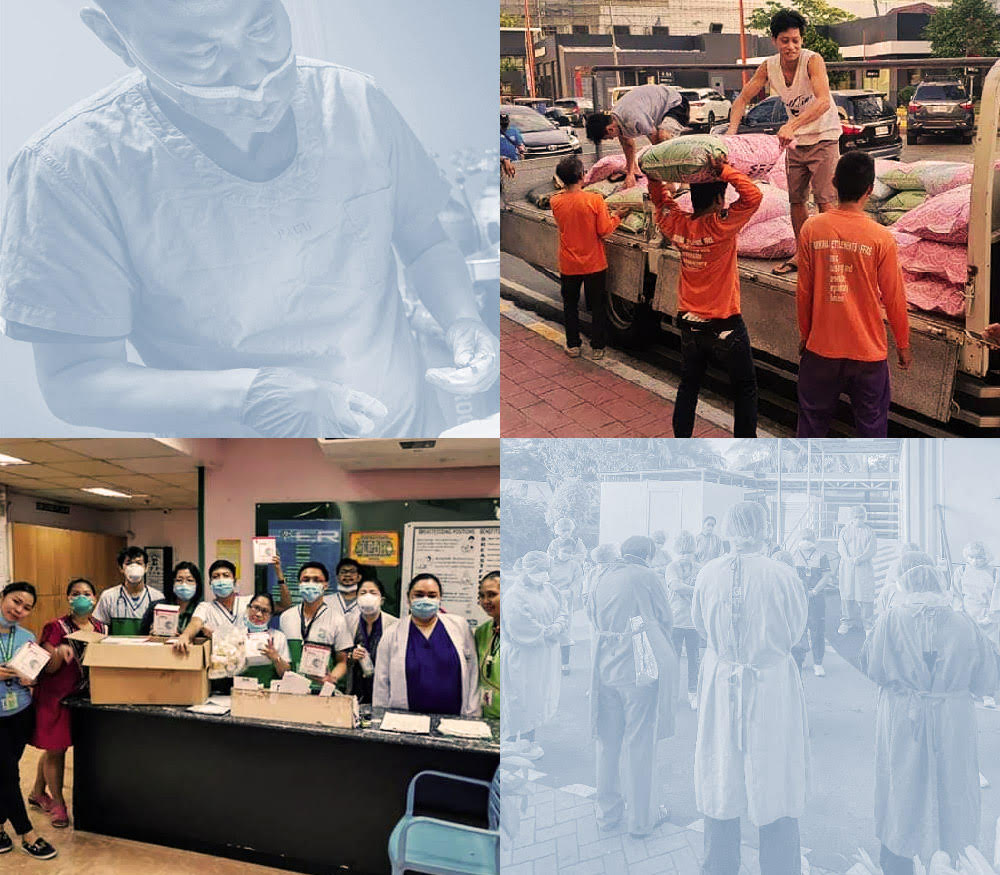 Typhoon Relief
A series of typhoons have brought devastating damage to Bicol, Albay, Camarines Sur, Rizal, Marikina, Cagayan, Isabela, and other areas. The DReaM Team, TYF, and SLB are providing assistance to these displaced communities. Aside from financial donations, we are also extending our aid to people whose lives have been upended by these catastrophic floods through the provision of in-kind donations of items such as food and beverage (canned goods, instant noodles, rice, bottled water and powdered milk), hygiene kits, and cleaning materials.
In-kind donations are accepted at the LS Covered Courts from 8 am to 5 pm, Monday to Saturday.
Your donation will support the disaster mitigation, preparedness, response, and recovery programs to help lessen the impact on these communities.
---
ACED Blueplate for Better Learning feeding program
ACED Blueplate For Better Learning Feeding Program
The Blueplate for Better Learning Feeding Program is an in-school feeding program launched by the Ateneo Center for Educational Development (ACED) in 2010. It provides daily lunch meals for 130 school days to public elementary children in ACED partner schools.

As COVID-19 pushed the closure of schools, the health and nutrition of the beneficiaries were affected. More alarmingly, according to a special Social Weather Stations (SWS) survey report last September 2020, the proportion of families experiencing involuntary hunger or hunger due to lack of food to eat at least once in the last three months has reached a new record-high of 30.7% or an estimated 7.6 million households.

As soon as it became clear that schools will not open for face to face classes this school year, ACED shifted right away to food packs as an alternative to school meals. The food packs consist largely of vegetables, root crops, or fruits guaranteed to have been harvested within the last 48 hours before these get to the beneficiaries.

In the fight against hunger, there is no time to lose. Your gift can bring a healthy food pack to a child and his or her family.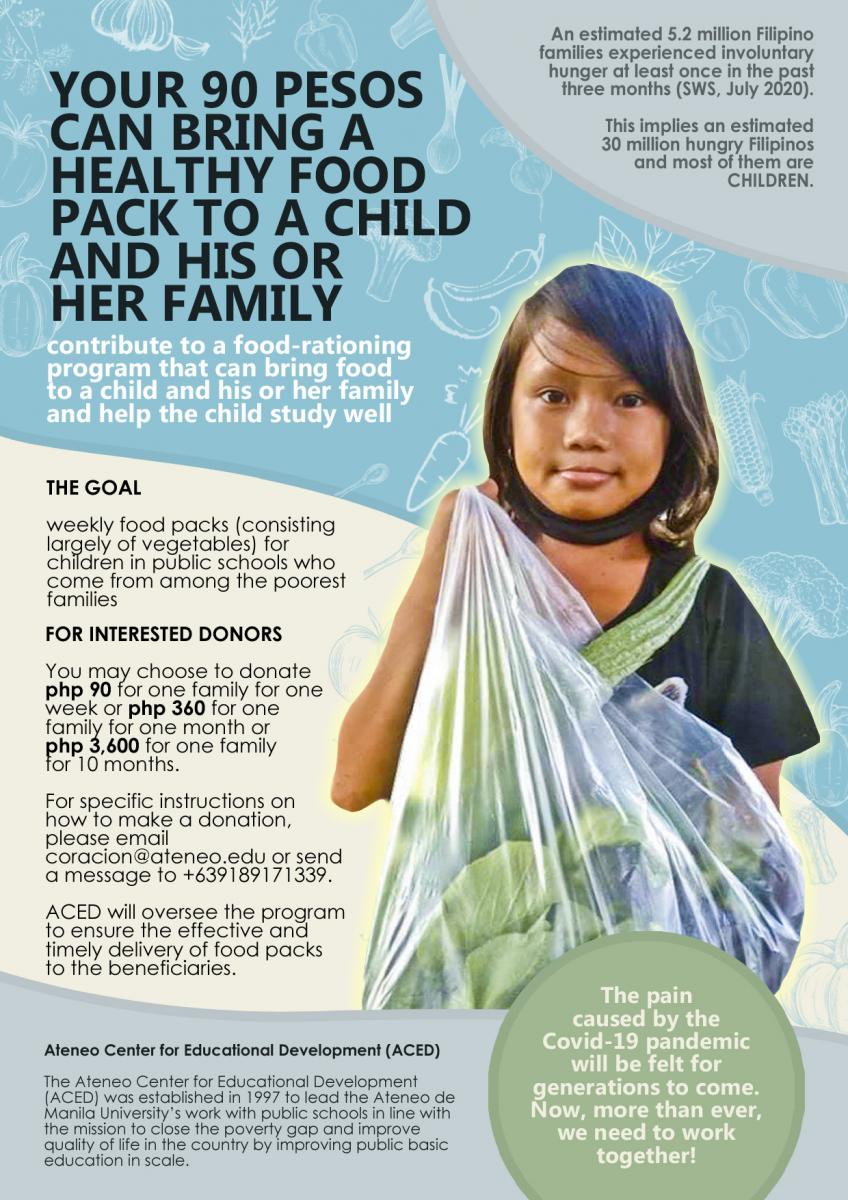 ---
Pathways to Higher Education
Pathways is an organization established in 2002 at the Ateneo de Manila University that recruits potentially rich but financially challenged high school students from public schools. Since its inception, 357 scholars in 13 batches have successfully graduated from college and are now gainfully employed in various professions including health care.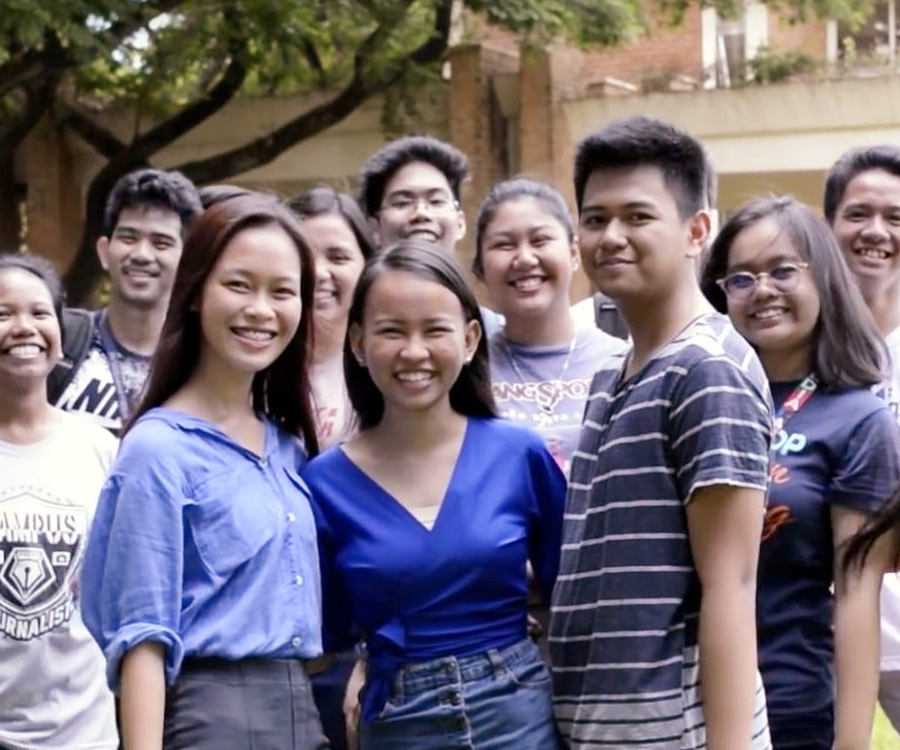 The current pandemic has brought about added challenges to our 196 scholars who are currently enrolled in various colleges and universities. This school year will be unlike any other; these times require them to study from home through the use of gadgets unavailable to them. While their families make the difficult choice of putting food on the table instead of the purchase of new gadgets, the gap between our scholars and their peers widens—in education and, eventually, in their job prospects.
With your help, we can supply our scholars with gadgets that will keep them connected to their classes; particularly for scholars in the fields of engineering, architecture, and IT who require more advanced laptops. We hope to share used but serviceable gadgets that may be lying neglected in our houses. We are also looking for donors who are interested to subsidize our students' prepaid internet access at Php 1,083 per month or Php 13,000 for one year.
You may take a look at the price ranges in this image: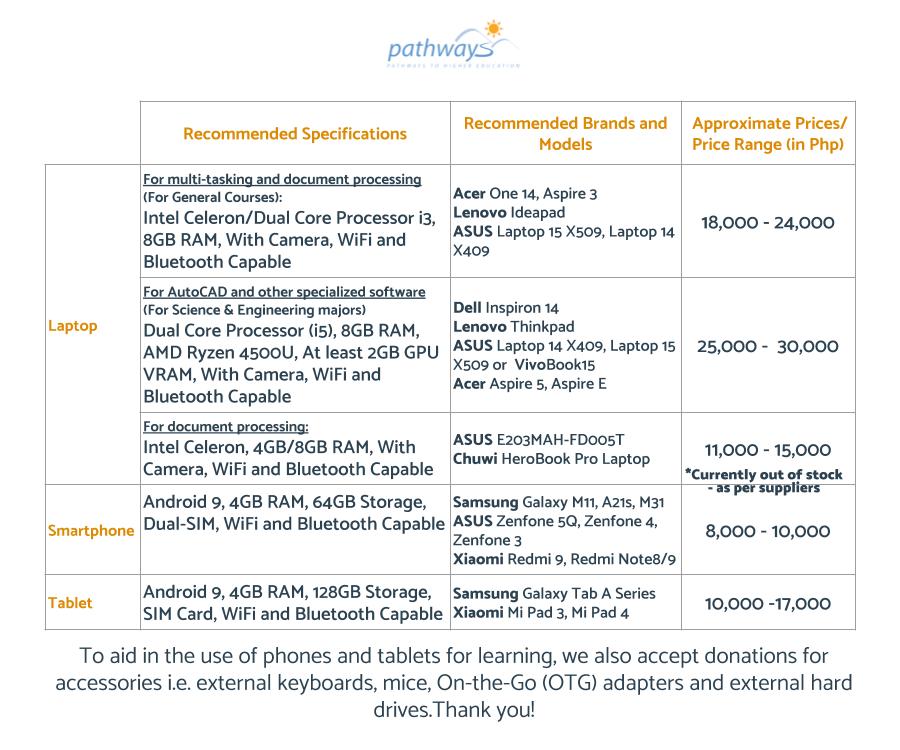 You may send your gadget donations to:
Pathways to Higher Education
℅ Fr. Johnny C. Go, SJ
EAPI Lobby, Ateneo de Manila University
Loyola Heights, Quezon City
For cash donations through bank deposit, please check this link. Please include a copy of your bank transaction so we can request the Central Accounting Office to issue the Official Receipt in your name.
( Giving Channels - Local > What are the different channels available to me as a donor? > For donations to Pathways to Higher Education )
For credit card donations, please click here.
For in-kind donations and direct cash donations, we can coordinate your entry to the campus. Please email us at pathways@ateneo.edu. Ateneo has strict entry guidelines right now, so all visits will need to be scheduled ahead of time. Thank you for your understanding!
Your generosity will go a long way! Thank you for ensuring our Pathways students stay connected to their classes and forge their path to brighter futures despite these bleak times.
---
Ateneo Bulatao Center for Psychological Services
Ateneo Bulatao Center for Psychological Services
The people at the Ateneo Bulatao Center have been committed to promoting psychological wellness across a variety of settings such as families, schools, communities, organizations and
corporations. They have achieved this through our various services, such as counseling, therapy, training and workshops, and research. Alongside serving the Filipino community, they promote the
development of competent psychologists through continuous knowledge acquisition and skills building.
In response to the recent increasing mental health distress reported among Filipinos during the pandemic, they have launched their Brief Psychological Services program. This program is a research-backed intervention that aims to:
1. Provide free online counseling sessions to Filipinos;
2. Train and upskill future psychologists;
3. Conduct research on the nature of psychological distress experienced during the pandemic
Since the launch of this service last January 2021 on their Facebook page, their team of 11 trainee psychologists has served over 500 Filipinos aged 18-70 years old from different regions around
the Philippines, such as NCR, CALABARZON, Easter Visayas, Western Visayas and Northern Mindanao. In these counseling sessions, psychologists foster a safe psychological space for
individuals to share any pressing concern, teach additional coping skills to help alleviate distress, and link them to further mental health support.
Currently, there are over 1,100 waiting to be serviced, warranting a bigger team of psychologists to respond to this urgent demand for mental health support. They aim to expand their team
to have 25 trainee psychologists, which requires more training, supervision, and management support.
Your support to the Center will be of great help to enable them to continue their Psychological Services Program and train more psychologists to address the increasing number of clients waiting to be serviced.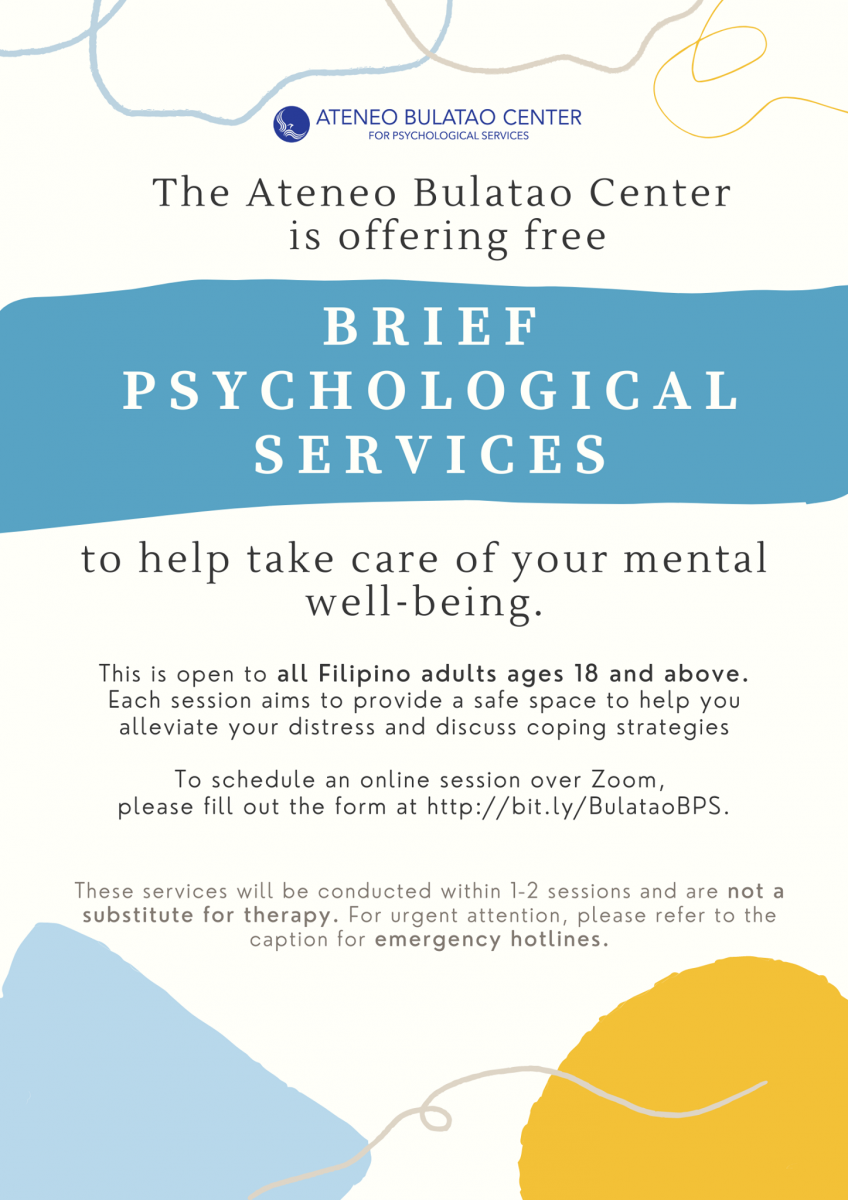 ---